Steve Howell
Location: Hinsdale, IL
Life has a way of knocking us around so much that you may have wondered when your relationships will feel meaningful and enjoyable again. I help couples navigate the hard times so they can move forward, together.
David Tobey
Location: St Charles, IL
I help men and couples who feel like they are sinking take a brave step toward wholeness in a space designed to remind you that you do not have to be alone in your pain. Take a brave step towards healing today and call me for a free phone consultation. 
Cari Shields
Location: St Charles, IL
When you come in as a couple, my goal is to make it okay for you to be you. That's where we start the journey.  You don't have to go through this alone. I have over thirty years of experience helping couples navigate life and improve relationships.
Kristin Reid
Location: St Charles, IL
I walk with couples through relational issues, abuse, life transitions, depression, and anxiety to find connection, healing, meaning, and hope.
Matthew Hanlon |
Location: Hinsdale, IL & St Charles, IL
I help marriages & couples, who are hurting, angry, and struggling to find their way through life's challenges, to create real and lasting change.  Visit Matthew's profile page.
Marriage & Relationship Resources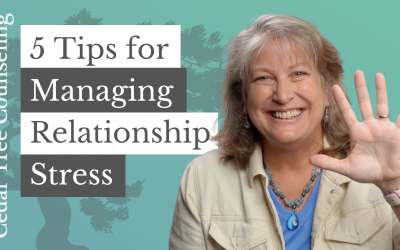 Relationships can be joyful and fulfilling, but they also require effort and can sometimes bring stress. When faced with relationship stress, it's important to have a few strategies in place to navigate through the challenges. Hi, I'm Cheryl Baird, a Therapist at...
Cedar Tree's Mission: 
There are a lot of broken families who struggle to do life well together. 
That's why we help families create an environment where deeper connection & healing can happen.